Art & Design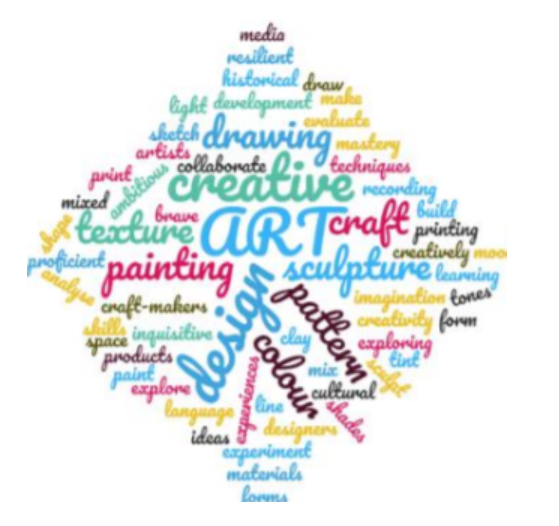 Our art curriculum is divided into 6 strands; painting, printing, textiles, 3D, collage, textiles and digital media with drawing running throughout the year.



Intent:
We believe at Kingswood Primary Academy that high-quality Art lessons will inspire children to think innovatively and develop creative procedural understanding. Our Art curriculum provides children with opportunities to develop their skills using a range of media and materials.
Children learn the skills of; drawing, painting, printing, collage, textiles, 3D work and digital art and are given the opportunity to explore and evaluate different creative ideas.
Children will be introduced to a range of works and develop knowledge of the styles and vocabulary used by famous artists. It is paramount that art work be purposeful; be this, as a means of expression, or to explore the styles of other artists that inspire our own work.
Pupils should be clear what the intended outcomes are and have a means to measure their own work against this. In Art, children are expected to be reflective and evaluate their work, thinking about how they can make changes and keep improving.

Implementation:
The Art curriculum is progressive throughout the whole school based upon the 2014 Primary National Curriculum, which provides a broad framework and outlines the knowledge and skills taught in each Key Stage. We implement a thematic approach to learning. Teachers use this approach and our progression of knowledge and skills document to plan lessons that are exciting and provide the skills needed at each year group.

The Art and Design Leader ensures that all aspects of the Art Curriculum are covered, through careful monitoring of the Medium Term Plans.
Classroom environments reflect the topic the children are learning, which then immerse the children in relevant vocabulary, as well as visual stimulus for their learning. The skills they acquire are applied to their cross-curricular topics, allowing children to use their art skills to reflect on and explore topics in greater depth; for example, by sketching historical artefacts in detail, researching geographical locations to support their work on landscape painting or using art as a medium to express emotion and thought to enhance their personal, social and emotional development.

Impact:
We measure the impact of our curriculum through the following methods:
Annual reporting of standards across the curriculum.
Marking of written work in books.
A reflection on standards achieved against the planned outcomes.
A celebration of learning for each term, which demonstrates progression across the school.
Pupil discussions about their learning; which includes discussion of their thoughts, ideas, processing and evaluations of work.
On entrance to the school, we display year group art work in frames.
We are currently working towards the Arts Mark 2022.